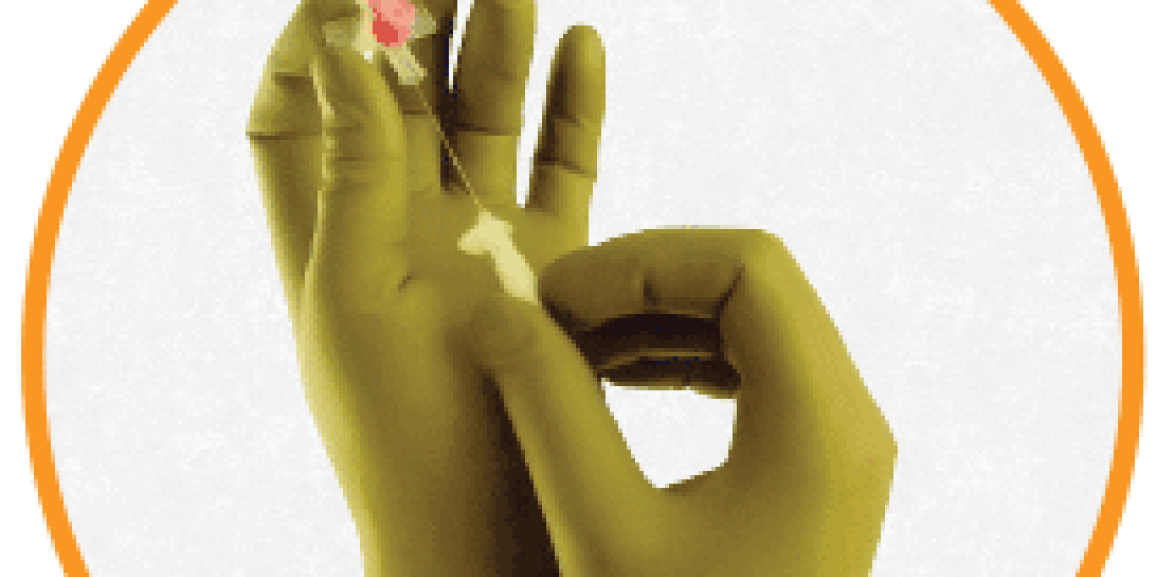 Download Catalog
Lead Gloves | Radiation Gloves For X-Ray Protection
Radiation protection gloves are crucial for medical personnel who work with and around x-ray equipment. Failing to use protective gloves can result in radiodermatitis and a variety of painful cancers.
Unfortunately, despite the severe risks, studies have found that the hands are the part of the body that physicians, especially interventional radiologists, are least likely to wear protection.
To help medical professionals say "yes" to radiation protection gloves, Barrier Technologies has developed an innovative radiation attenuation material that is lighter and more flexible than traditional lead gloves.
Continue reading to learn more about the advantages of our Secure Touch® hand protection, or place an order today. Gloves ship within 24 hours of placing an order.
Radiation Protection Gloves are Important for X-ray
Extended exposure to ionizing radiation can lead to a number of dangerous side effects, one common condition being radiation dermatitis (also called radiodermatitis). Irradiation of the skin damages the cells of the epidermis and blood vessel cells and can evolve into a variety of cancers.
What Do Lead Gloves Guard Against?
The most common body parts affected by occupational radiodermatitis are the hands — especially the left hand. Under continual exposure to radiation, the skin on the fingers becomes shiny, dry, hairless, and the nails become brittle.
If proper hand protection isn't used, these symptoms become progressively worse, transitioning from "simple radiodermatitis" to "progressive" and finally "malignant radiodermatitis."
The final two stages are characterized by ulcers, hyperkeratotic plaques, hyperplasia, and painful burning sensations, before developing into either Bowen's disease, squamous cell carcinoma, or basal cell carcinoma. These diseases can appear as many as 20-30 years after exposure, which is why using proper radiation protection products from the very beginning is crucial.
Secure Touch®: An Innovative Alternative to Lead Gloves
For decades, lead gloves have been a necessary evil in the medical industry. Lead is heavy, inflexible, puts a strain on the hands, and makes delicate procedures extremely difficult to perform.
To mitigate the disadvantages of lead, the engineers here at Barrier Technologies have developed a new attenuating material that is lead-free. As a result, our radiation attenuation gloves offer superior flexibility without compromising protection.
Secure Touch® Radiation Gloves (Lead-Free X-Ray Protection)
In contrast to lead gloves, which are heavy, stiff, and lack tactile sensitivity, our lead-free Secure Touch® radiation protection gloves deliver these advantages:
Highest level of protection in the industry, with a lead equivalence of either 0.2 mm BP (our XR1 glove) or .04 mm PB (our XR2 model).
Textured fingers and palms maximize tactile sensitivity and ensure gloves don't slip during delicate procedures.
Glove fingers are slightly curved to reduce tension on the hand, making our hand protection easy to wear for long periods of time. Lead protection often has straight, stiff fingers that are painful to wear for extended periods.
Beaded cuffs for easy donning.
Gloves are powder-free.
Hypoallergenic internal coating.
The primary attenuating agent in our hand protection is bismuth and the bonding agent is natural rubber latex. Our radiation protection gloves can be easily used in tandem with surgical gloves during surgery. We also have surgical aprons.
Our Radiation Protection Glove Catalog Download Catalog
Maximizing Radiation Glove Protection
While traditional lead gloves and our own Secure Touch® products significantly decrease the amount of radiation being absorbed by the hands, physicians should remember that protection is not 100%.
Here are a few tips to help maximize the protection offered by your radiation attenuation gloves:
Keep hands out of the direct x-ray beam.
If possible, work on the exit-beam side of the patient.
Always wear hand protection when working with radiation.
Remember, radiation exposure is cumulative, so even small amounts of exposure can build up over the course of a career, and the effects are permanent. Don't gamble with your health. Always use x-ray protection on your hands.
Barrier Technologies – Leading Manufacturer of Protective Gloves
Barrier Technologies is America's leading manufacturer of x ray gloves and radiation protection products. We cater to healthcare organizations of all sizes and ship glove orders within 24-hours.
To learn more about our lead glasses, protective xray aprons, and other innovative radiation products, please download our lead-free glove catalog or contact us today.
Other Products from Barrier Technologies:
Radiation Protective Gloves
Radiation Protection Glasses
Radiation Protection Accessories
Radiation Protection X-ray Lead Aprons
Cleaning Apron
Thyroid Shield
Secure Shield Pads
X-Ray Table Drapes
Mobile Lead Shield
CT Protection Shields
Dental Radiation Protection
Ultraflex Dental X-Ray Protective Aprons