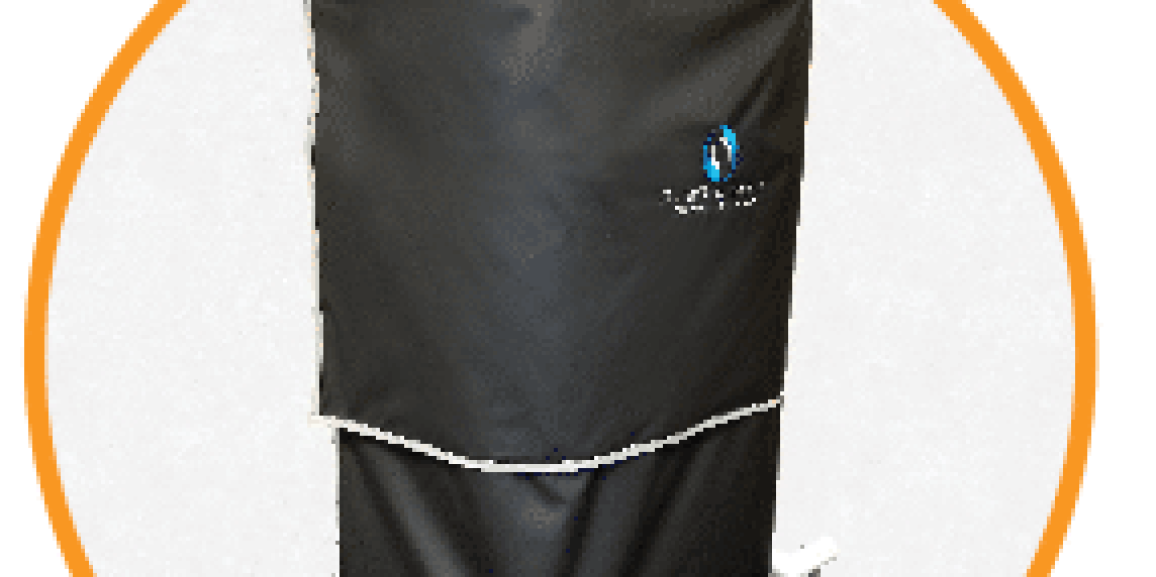 Download Catalog
Mobile Lead Shields –  A Great Option to Stay Protected
An unfortunate side effect of wearing heavy lead aprons for long procedures is that they can have a damaging effect on the back, shoulders, and knees. To mitigate these negative health consequences, Barrier Technologies® has developed and patented a mobile lead shield, the Terminator XR™ — an innovative breakthrough in radiation protection technology. 
Our portable bedside shield is fully customizable and provides up to 4x more long-bone protection than the standard protective apron or competing secure shield options. 
Continue reading to learn more about the advantages of our portable radiation shields, or contact Barrier Technologies today to place an order. 
Portable Lead Shields to Keep You Protected & Mobile
For a long time, the only alternative to xray lead aprons has been cumbersome space-suit-like devices that hang from either the ceiling or a crane. 
While they do provide protection, these hanging lead shields severely limit movement in the operating room by keeping the doctor constantly tethered to either the ceiling or a crane. They're also so bulky that they prevent multiple people from simultaneously standing against the side of the operating table. 
Inspired by the disadvantages in these competing designs, physicians asked our engineers to develop a lead shield that was actually mobile and easy to use.
This is how the Terminator XR™ was born — a truly intuitive and mobile lead shield. 
Advantages of the Terminator XR™ Portable Bedside Shield 
The Terminator XR™ is the most efficient, mobile, and customizable lead shield on the market, and when you're not using it, you can simply wheel it into a corner. In addition to full mobility, our state-of-the-art shield also delivers the following advantages: 
4x Radiation Protection 
The Terminator XR™ can provide up to 2.0mm pb of x-ray protection. This is because each panel is 1.0mm pb, so in designs where the panels overlap, our mobile lead shield delivers 4x more x ray protection than the standard apron (which is 0.5mm pb). 
Stain-Resistant & Antibacterial Fabric
All our portable lead shielding is covered in UltraFlex™ — an innovative fabric developed and patented by Barrier Technologies. Unlike traditional, porous nylon fabrics, UltraFlex™ is an antibacterial and stain-resistant fabric that can be wiped down and cleaned with any hospital-grade disinfectant. 
Enables Physicians & Technicians to Work in Tandem
Unlike hanging shields, our mobile barriers allows doctors and technicians to work side-by-side against the table. We also provide sterile, single-use drapes for the Terminator XR™ in order to preserve the sterile field. 
Provides an Armrest for Lengthy Procedures
Not only does the Terminator XR™ remove apron weight from your shoulders, but it also gives doctors something to lean on during long procedures. The ability to rest on the shield during procedures is a huge advantage over other lead shield options. 
Customization Options for Our Mobile Radiation Shield
Barrier Technologies puts physicians first, which is why we accommodate all customization requests. Common customizations include: 
Height adjustment

. Our standard shield model can accommodate people ranging from 5' to 6' 6" tall. We can also fabricate custom shields for medical personnel outside this height range.

Color & branding

. We can customize your shield's color and add your organization's logo to the front of the lead shield.
Optimal Scatter Protection – Terminator XR™ Mobile Lead Shield
To maximize protection for the parts of the body exposed above the lead shield, we provide a special protective vest that weighs only 2 lbs and protects the axillary lymph nodes. This is paired with one of our light-weight, velcro-free thyroid collars for maximum, full-body x ray protection. 
Even with the light-weight vest and thyroid collar, the Terminator XR™ and its sterile drapes are significantly more affordable than competing radiation shields, especially hanging shields. 
To unlock a truly mobile operating room experience, place an order today, or contact our team to request a customized order. 
Other Products from Barrier Technologies:
Radiation Protective Gloves
Radiation Protection Glasses
Radiation Protection Accessories
Apron Cleaning Wipes
Radiation Protection X-Ray Aprons
Thyroid Shield
Secure Shield Pads
X-Ray Table Drapes
Mobile Lead Shield
CT Protection Shields
Dental Radiation Protection
Ultraflex Dental X-Ray Protective Aprons