Download Catalog
Protective X-Ray Vest – Barrier Technologies
Radiation exposure is one of the major workplace hazards healthcare professionals face. To mitigate this risk, Barrier Technologies offers a wide range of innovative lead vests. From traditional lead aprons to alloy-based alternatives, our lightweight and comfortable x ray lead aprons offer lasting radiation protection.
Advantages offered by our radiation protection lead aprons include:
The ability to ship certain lead aprons within 24 hours of placing your order (our RTG apron line)

Four outer material options, including our patented, anti-bacterial, Covid-19 compliant UltraFlex™ fabric

MagnaGuard™, our industry-leading magnetic closure system that eliminates bacteria-laden velcro closures

Lightweight, Pb-free core material options
Continue reading to learn more about our Pb-free and ray lead apron for x ray radiation protection, or download our lead apron catalog to learn about each apron in detail.
High-Quality Radiation Protection Lead Aprons
Three unique features that elevate Barrier Technologies' radiation protection x-ray lead apron above other options include our Ready To Go Aprons, UltraFlex™ fabric, and MagnaGuard™ closures.
Ready To Go Lead Aprons (Ship Within 24 Hours)
In an industry where it usually takes apron manufacturers 4-8 weeks to create and ship lead aprons, our ability to ship some of our lead aprons within 24 hours of order makes us an asset to healthcare organizations around the world.

Our Ready To Go (RTG) line of X-Ray Lead Aprons comes in a variety of sizes, colors, and styles. RTG apron specifications include:
Four Sizes: Small, Medium, Large, and Extra Large

Four Colors: Black, Navy Blue, Royal Blue, Charcoal, and Gray

Two Styles: Frontal apron (BF), or our 2-piece support vest and skirt (SPVS)

Removable pocket of x ray lead apron can be embroidered with a custom design or logo
Because our RTG aprons are only available with UltraFlex™ as the outer material, they are stain-resistant and can be easily wiped down and cleaned with an antibacterial solution. The antibacterial qualities of our RTG aprons are further enhanced by MagnaGuard™ closures, making our ready-to-ship lead aprons Covid-19 compliant.
Order your Barrier Technologies Ready to Go Lead Aprons on our RTG Order Page.
UltraFlex™ Antibacterial Aprons
Traditionally, the only outer material option for lead aprons has been porous nylon fabric. This has made radiation protection x ray aprons difficult to clean and easy to stain. As a result, radiation protection aprons are notoriously dirty and increase the possibility of Hospital Acquired Infection (HAI) with every use.
To solve and prevent this health hazard, Barrier Technologies's engineers developed a medical-grade, urethane-coated fabric that is impervious to fluids and comfortable to wear. This is UltraFlex™, our patented outer material that enables you to quickly clean your lead aprons with any disinfectant.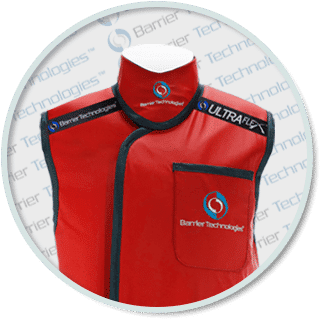 Benefits of ordering an UltraFlex™ apron include:
Covid-19 compliant material

Stain-resistant

Anti-bacterial

Easy to wipe down and clean

Impervious to fluids

Reduces HAIs
UltraFlex™ is also easier to wear than traditional nylon outer materials because it is a four-way stretch fabric. In contrast to nylon fabrics, which are very stiff, UltraFlex™ feels like wearing a comfortable, broken-in pair of shoes.
MagnaGuard™ Magnetic Closures
Barrier Technologies has conducted extensive bacteriological testing on velcro closures, determining that in healthcare environments, velcro often harbors MRSA, staph, and other dangerous bacteria. Unfortunately, most lead aprons and lead vests in the industry use velcro for all their closures, increasing the risk of HAI.
To mitigate and remove this risk, we've developed and patented a magnetic closure system called MagnaGuard™. This magnetic closure is made out of powerful strips of magnets that are embedded in the apron lining, enabling our radiation protection apron to be affixed by simply touching the closures together and allowing the magnets to snap together.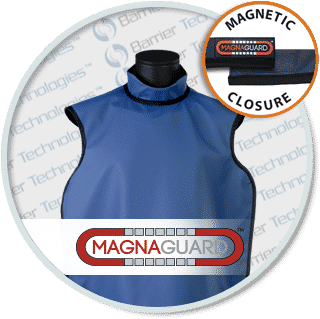 Benefits of velcro-free MagnaGuard™ aprons include:
Can be cleaned with any hospital-grade disinfectant

Lasts much longer than velcro

Eliminates velcro hair pulls, making MagnaGuard™ more comfortable to wear

Reduces the amount of plastic in each apron
For both UltraFlex™ and traditional nylon aprons, MagnaGuard™ reduces transmission risks and enables our customers to have cleaner, safer closures on their aprons.
Our Catalog of Lightweight X-Ray Protection Aprons
Barrier Technologies's Pb-free and x ray lead aprons have a lead time of 20 working days, which means that we ship custom lead radiation protection aprons faster than anyone else in our industry. If you need a lead apron sooner than 20 working days, then consider ordering one of our RTG aprons.
Our radiation protection aprons are custom-made, so weight varies depending on the style you choose and how large the x ray lead apron needs to be.
Types of Core Materials Available
We produce two core material options:
Pb-free™ (Tungsten-based, proprietary lead-free, lightweight, alloy blend)

Pb Standard™ (lead-based, lightweight, protective core material)
For standard Pb lead aprons, the lead is pressed into a flexible form and embedded in the apron. If you'd like a lead-free apron, our Pb-free, lead lite aprons are made from an amalgamation of different alloys that all have radiation blocking properties. Our proprietary alloys include tungsten, titanium, bismuth, and magnesium.
When encapsulated in a vinyl matrix, our alloy options are significantly lighter than standard Pb and are equally effective at blocking and reducing scattered radiation, giving you both maximum protection and minimal weight.
Outer Material Options
We offer four outer material options:
UltraFlex™ (our proprietary, antibacterial, stain-resistant fabric)

Ripstop nylon (a diamond ripstop material)

Designer prints (nylon material with custom prints that you can choose)

Standard nylon
While we do offer three traditional nylon options, we encourage customers to order aprons in UltraFlex™, due to its Covid-19 compliant, antibacterial, and stain-resistant properties.
An Alternative to Radiation Protective Aprons
If you are looking for an alternative to aprons, consider our patented Terminator solution. The Terminator provides you with 4x the protection of an apron that helps you in prolonged exposure to radiation, with zero weight strain on your body. Download mobile lead shield catalog.
Vests: Radiation Protection Vest Options
In addition to lead aprons, we also manufacture high-quality and comfortable radiology vest protection.
Our x-ray lead vest options deliver full front and back protection and are equipped with comfort features like shoulder pads and support belts to make your radiation protection vest easier to wear for long periods of time.
The three x-ray vests we offer are the Support Vest & Skirt, the Barrier Flex Vest & Skirt, and the Standard Vest & Skirt. All three vests provide enhanced attenuation thanks to our proprietary Secure Shield™ Core Material.
To help you decide which type of lead vest is best for your hospital staff, let's explore each one of these in more detail.
1. X Ray Vest & Skirt
In line with our goal of providing the medical industry with radiation protection that is lightweight and easy to wear for long periods of time, this x ray vest comes with an integrated back support belt. This belt is adjustable, provides maximum support to the lower lumbar region, and helps reduce body fatigue.
Additional features include:
Available in UltraFlex™ antibacterial and stain-resistant fabric

Elastic skirt insert for a more comfortable fit

Shoulder pads for additional comfort

Wrap-around MagnaGuard™ closures
2. Barrier Flex Vest & Skirt
Like our Support Vest, our signature Barrier Flex Vest places great emphasis on comfort. Instead of a belt, this protection medical vest for radiation is equipped with elastic back support that provides greater comfort during long procedures and weight distribution.
Additional features of this x-ray vest include:
Available in UltraFlex™ — our proprietary, antibacterial, stain-resistant, and Covid-19 compliant fabric

Wrap-around MagnaGuard™ closures

Shoulder pads for additional comfort

Optional elastic insert to make the skirt even more comfortable to wear
3. Standard Vest Apron & Skirt
Our standard x ray vest emphasizes freedom of movement and gives you a full range of motion for long procedures. Instead of wrap-around MagnaGuard™ closures, this radiology vest apron opens and closes from the front, making it quick to put on.
Like our other two x ray vests, our Standard Radiation Protection Vest features:
Multiple fabric options, including UltraFlex™

Shoulder pads

Optional elastic skirt insert
Barrier Technologies — An Industry-Leading Manufacturer of Radiation Protection Aprons
Barrier Technologies is America's leading manufacturer of x-ray lead aprons and leaded eyewear. We cater to healthcare organizations of all sizes and can ship apron orders (specifically our Ready To Go line) within as little as 24 hours. To learn more about our innovative radiation solutions, please download our lead apron catalog or contact us today.
Other Products from Barrier Technologies:
Radiation Protective Gloves
Radiation Protection Glasses
Radiation Protection Accessories
Apron Cleaning Wipes
Radiation Protection Aprons
Thyroid Shield Cover
Secure Shield Pads
X-Ray Table Drapes
Mobile Lead Shield
CT Protection Shields
Dental Radiation Protection
Ultraflex Dental X-Ray Protective Aprons