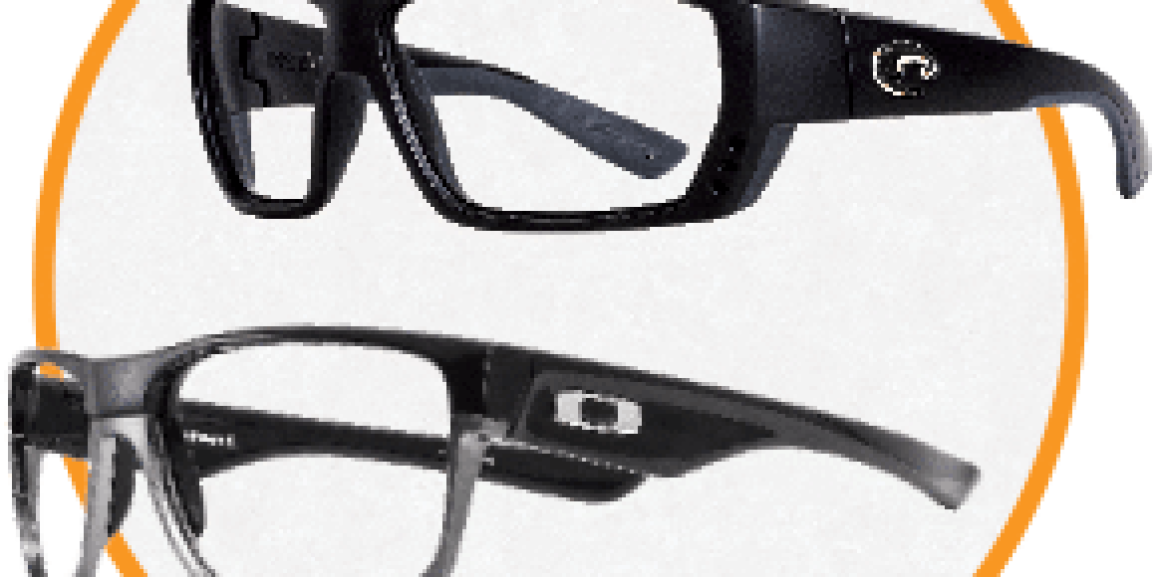 Download Catalog
Our partnership with Corning & their Med-X line of 0.75mm Pb Radiation Protective lenses allows us to enhance the adaptability and acuity of the human eye while providing maximum protection, durability, and comfort. These lenses strategically block the harmful rays of scatter radiation while providing the user with reduced eye fatigue and enhanced vision.
Offering uncompromising comfort, fit, form and function, our Leaded Eyewear collection allows the user to concentrate & stay focused while at the same time maximizing safety for our customers.
Barrier Technologies® Leaded Eyewear:
Our product line incorporates new technologies that improve the safety, performance & comfort of all healthcare practitioners who work in fluoroscopic environments. We invite you to explore our Leaded Eyewear catalog to see how we have become the leader in Radiation Protective eyewear and radiation protection products by setting the standard for quality & customer service.
"Your safety is our concern"™
Radiation exposure is a major risk to the eyes of healthcare professionals who frequently work with x-rays. To mitigate this risk, Barrier Technologies has developed a large inventory of leaded eyewear. Our radiation glasses protect the eyes from 100% of scatter radiation.
Beyond protection, our radiation protection glasses offer a host of other benefits, including: 
Highest lead content in the industry 

Protective glasses in your exact prescription

The lens does not yellow over time

Anti-reflective lenses cut glare

The anti-fog coating enhances performance

Our catalog includes frames by Rudy Project, Oakley, Costa, and other major eyewear brands
Continue reading to learn more about our industry-leading lead glasses or download our eyewear catalog to learn about each pair of leaded eyewear in detail.
X-Ray Protection Glasses Are Necessary
While occasional radiation exposure is not harmful, consistent exposure to low dose radiation (LDR) over the course of a career can seriously damage the eyes.
Without proper eye protection, cardiologists, radiologists, and other healthcare professionals that work with x-rays put themselves at increased risk of pre-cataract lesions, cataracts, glaucoma, retinal damage, dry eye, and even blindness. The higher the level of exposure, the higher the risk of damage.
What Happens When You Don't Wear Anti-Radiation Glasses
When a healthcare professional forgoes lead glasses for radiation protection, they put themselves at unnecessary risk for eye damage. Cataracts, for example, occur much more in physicians who don't wear lead radiation glasses than in those who do.
Without protection in place, scatter radiation is free to impact the body, and when it does, the radiation damages atoms in the eye's cells. Radiation penetration affects cell division and causes cells in the eye's lens to die. As the lens tends to fail, this is particularly damaging to the eye because the lens cannot clear damaged cells. As cells continue to disintegrate with each new radiation exposure, they build upon the lens, eventually blocking light and creating cataracts. 
While cataracts are the most common condition brought on by forgetting to wear radiation protection eyewear, they aren't the only ones. 
Leaving your protective x-ray glasses on the table also exposes you to glaucoma, retinal damage, dry eye, and even blindness.
How Radiation Protective Eyewear Protects Your Eyes
Lead-lined glasses should be worn whenever x-ray technology is being used to protect the eyes from radiation.
Lead protection glasses block x rays thanks to lead's high atomic mass. Radiation waves can easily pass through lighter elements like carbon and calcium but are stopped in their tracks by the heavyweight of lead, which has an atomic density of 207 (compared to calcium's atomic mass of 40). 
How does this work? Atomic mass measures the density of atoms in an element. The atoms in lighter elements are spaced out, allowing radiation to slip through, while those in heavy elements like lead and titanium are closely packed. When radiation waves impact the wall of lead atoms in a pair of x-ray protection glasses, the energy is transferred from the waves to the lead — stopping the radiation in its tracks and protecting your eyes. 
Radiation protection glasses should be used in tandem with scatter-shielding screens and additional lead protection on the body, neck, and head to maximize protection.
Best Radiation Glasses – Anti-Glare, Anti-Fog, & Prescription
At Barrier Technologies, we manufacture the strongest radiation safety glasses in the industry. We've accomplished this by investing heavily in glass surfacing technology and partnering with Corning — America's leading supplier of ophthalmic lenses.
At 0.75mm, Corning's Med-X® Glass has the highest lead concentration in the industry, blocking 100% of harmful radiation to the eye. And in contrast to foreign-made lenses that turn yellow over time, Corning's American-made Med-X® Glass never changes color. Unchanging color ensures that your protective glasses maintain their exceptional optical clarity throughout their entire life.
Three more features that elevate Barrier Technologies' x-ray protection glasses above competing options include:
Our specialized coatings;

The ability to deliver exact prescriptions;

Our comprehensive inventory of frames from your favorite eyewear companies.
ClearView Coatings For Optimal Clarity
To ensure that our glasses maintain their position as the best radiation eyewear available, we offer specialized ClearView coatings that enable you to optimize your glasses for your work environment.
You can choose to enhance your glasses with one or both of the following coatings: 
ClearView AR (anti-reflective): cuts the glare and helps you continue working under harsh lights
ClearView AF (anti-fog): prevents misting and condensation from forming on your glasses
ClearView coatings are unique to Barrier Technologies's lead glasses and are an excellent example of our commitment to delivering superior products to the healthcare industry.
Prescription Lead Glasses
Traditionally, it has been difficult to replicate a prescription in lead glasses. But, with the advent of innovative prescription software, like our Digital Lens Surfacing system, we are able to provide customers with leaded prescription glasses that have their exact prescription.
Our Digital Lens Surfacing system enables us to provide customers with anti-fatigue Single Vision, high definition Bi-Focal, and personalized progressive prescription glasses with up to a +4.50 add power.
By ordering your lead eyewear from Barrier Technologies, you ensure maximum protection with minimal eye strain.
Accessories for Lead Glasses
We provide a variety of accessories along with every order of protective leaded eyewear. This includes: 
An ARCFF refresh solution for lenses with the ClearView AF coating

A cleaning kit 

A protection case 

And a retention strap
We can also supply you with protective gloves, leaded thyroid collars, and protective xray aprons to enhance your radiation protection.
Radiation Eyewear From the World's Leading Brands
Our Med-X® Glass lenses can be ordered in over 50 styles, with frames from some of the eyewear industry's top companies, including Oakley, Rudy Project, Costa, Ray Ban, and WileyX. 
The frames we offer are stress-resistant, equipped with cutting-edge ergonomic features, and manufactured from a variety of high-performance materials, such as titanium and carbon fiber.
Oakley Lead Glasses
All our Oakley leaded glasses are equipped with O-Matter stress-resistant frames — a proprietary frame material made from lightweight and robust nylon composites. 
As for styles, we offer eight kinds of Oakley lead radiation glasses, including: 
Gascan

. A sleek and simple design, optimized for all-day comfort. 

Fuelcell

. Modern radiology glasses are outfitted with non-slip Unobtanium zones. 

Twoface

. A unique and high-strength composite frame combining O-Matter and aluminum. 

Five-Squared

. Minimalist radiation proof glasses providing lightweight protection. 

Crosslink

. Futuristic frame combining O-Matter and Unobtainium to deliver superior comfort and style. 

Det Cord

. Bold anti radiation eyeglasses equipped with side shield x-ray protection.

Straightlink

. A lightweight, back-the-basics frame for those prioritizing comfort over style.

Holbrook RX

. Modern protection with a vintage aesthetic. 
All our lead glasses for radiology deliver a minimum of .75mm Pb protection.
Costa Lead Glasses
We offer a variety of stylish Costa radiation glasses, including: 
Blackfin

. A durable frame delivering both lens and side shield protection. 

Brine

. A sleek frame equipped with non-slip Hydrolite rubber and vented ports for reduced fogging. 

Cape

. Large frames for x-ray lead glasses with built-in air ports and side shield protection. 

Fantail

. Optimized DBL design that keeps the frame of your xray lead glasses from resting on your face.

Permit

. Bold radiation protective eyewear with side shield protection. Ideal for medium-to-large faces.

Tuna Alley

. Comprehensive protection that combines DBL, Hydrolite, and vent ports for maximum comfort.
Rudy Project Radiation Safety Eyewear
Rudy Project frames combine world-class ergonomic features with superior materials like titanium and carbon fiber to produce long-lasting and comfortable x-ray protective eyewear. We offer several Rudy Project frames, including: 
Contender

. Stylish frames made from a combination of carbon fiber and titanium and equipped with integrated shields for maximum side protection. 

Voltage

. Lead safety glasses designed with Rudy Projects proprietary Ergonose System — an advanced nosepiece technology that helps these frames fit any nose.

Sensor

. A futuristic hybrid frame composed of Kynetium and Titanium alloys.
Radiology Lead Glasses From Other Brands
In addition to the brands listed above, we also offer a variety of Nike lead glasses and frames from WileyX, Barrier Brazen, and Ray-Ban.
Catalog of All Our X-Ray Glasses
Our expansive leaded eyewear catalog includes everything from minimalist fashion to heavy-duty tactical protection and full-face shields.
In addition to industry-leading eye protection, we also supply the healthcare industry with innovative radiation protective aprons, protective gloves, mobile lead shields, and other protective x-ray tools.
Do I Need to Wear Radiation Protective Glasses?
Still on the fence about leaded eyewear? Here are some quick questions to help you determine if lead safety glasses are a necessary expense for your workplace: 
Are you wearing any other lead protection? If your job requires lead aprons, thyroid shield collar, or other forms of shielding, then you should be wearing lead x-ray glasses as well. 
Are you regularly exposed to x-rays? Then it would be a good idea to mitigate the cumulative effects of radiation with a pair of radiation protection lead glasses. 
Barrier Technologies – A Leading Global Manufacturer of Radiation Safety Eyewear
Barrier Technologies is America's leading manufacturer of radiation safety glasses. Our partnerships with state-of-the-art eyewear companies like Corning, Rudy Project, and Oakley enable us to deliver long-lasting lead glasses to our customers.
Our lenses can accommodate any RX type, whether Plano, Single Vision, Bi-Focal, or personalized Progressive prescription.
Don't risk the health of your eyes. Wearing leaded eyewear is an easy way to mitigate the damaging effects of x-rays and keep your vision sharp for years to come. 
To learn more about our innovative radiation solutions and CT protection shield, visit our leaded eyewear overview section or please download our leaded eyewear catalog, or contact us today.
Other Products from Barrier Technologies:
Radiation Protective Gloves
Radiation Protection Glasses
Radiation Protection Accessories
Apron Cleaning Wipes
Radiation Protection X-Ray Lead Aprons
Thyroid Shield
Secure Shield Pads
X-Ray Table Drapes
Mobile Lead Shield
CT Protection Shields
Dental Radiation Protection
Ultraflex Dental X-Ray Protective Aprons