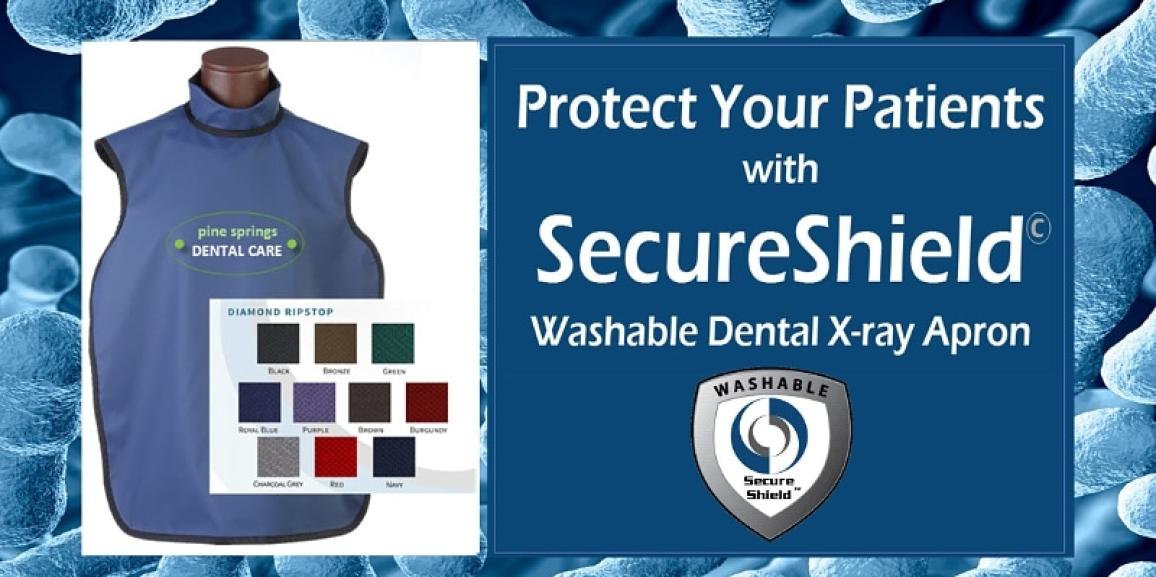 First Ever Machine-Washable, Lead-Free Dental X-Ray Apron
The Secure Shield™ lead-free dental apron is the only machine-washable dental x-ray garment on the market, providing superior protection from cross-contamination.

Barrier Technologies April 14, 2015 9:55 AM
DAVIE, Fla., April 14, 2015 /PRNewswire-iReach/ — Using a dental apron during radiography is essential to protect patients' bodies from potentially harmful x-rays. However, since many patients undergo x-rays and wear the apron on a given day, hygiene is an important consideration. Most dentists disinfect their dental aprons with a cleaning solution at the end of each workday, but recent research has shown that this sanitization method fails to wash away bacteria left by previous patients. Dentists who use traditional x-ray aprons run the risk of infecting their patients and spreading disease between patients and staff.
Photo – http://photos.prnewswire.com/prnh/20150414/198419
Barrier Technologies® decided to put traditional apron sanitization measures to the test at the Forsyth Institute in Cambridge, Massachusetts. Dr. Bruce Paster and Dr. Hatice Hasturk conducted a contamination study of five dental x-ray aprons. The doctors swabbed the aprons and transferred the samples to two dishes, where they identified 26 bacterial species ranging from harmless staphylococcus strains to a possibly dangerous pathogen, pseudomonas luteola. The presence of any bacteria, let alone 26 kinds, indicates that the traditional cleaning protocols aren't enough.
The Secure Shield™ poncho is the first of its kind: a machine-washable x-ray apron. Dentists can simply wash the apron in cold water and tumble dry on low heat. Sanitizing the apron with soap and water in a washing machine provides a more comprehensive cleaning that can address every seam. Barrier Technologies recommends machine-washing the x-ray apron once a week and maintaining the typical daily wipe-downs between cleanings. Secure Shield™ washable dental x-ray aprons should not be dry cleaned, ironed, or bleached.
Barrier Technologies® uses a tough but lightweight, lead-free x-ray shielding material to further protect patients from harm. It blocks 97 percent of radiation at 120 kvp (kilovoltage peak) without using the usual toxic heavy metal. The unique x-ray blocking material also allows the apron to have a more flexible, comfortable design. With its unique washability and lead-free x-ray protection, Secure Shield™'s dental apron helps guard patients against infection, lead poisoning, and x-rays.
About Barrier Technologies®
Barrier Technologies® is a top manufacturer of garments and accessories for radiation protection. This company offers its products to veterinary, nuclear, defense, medical, and dental professionals around the globe, helping them improve their safety and enhance their services.
To learn more about machine washable dental x-ray aprons by Secure Shield™, visit the website: dentalxrayaprons.com.